Our work is exciting and varied, but the most important thing is meeting our clients' marketing and PR objectives – achieving the best results, on time and in budget. Here are just a few clients, past and present, who have engaged the marketing and PR services of Sue Haswell & team: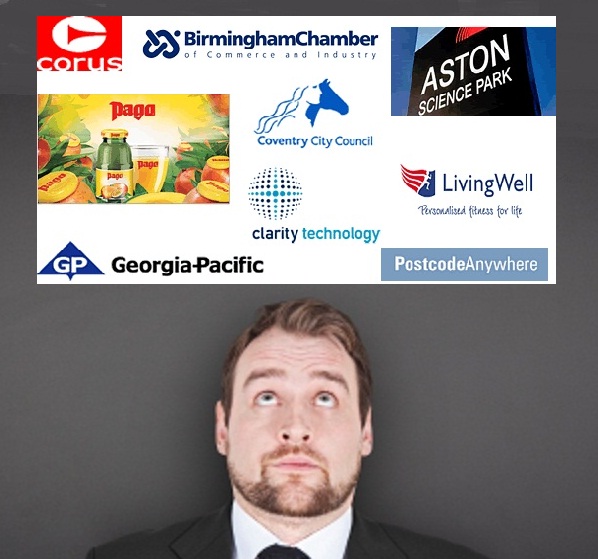 – Georgia Pacific
– Clarity Technology for Sun Microsystems
– Coventry City Council
– Seaview International Holiday Park
– Corus Steel
– Birmingham Chamber
– Pago Fruit Juices
– PCG Glass
– Dinkum Shakes
– Lasan Restaurant
– Sienna X
– National Express (for Central Trains)
– Jane Shilton (TM)
– Milords International
– Cosmopolitan (TM) Licensed products – handbags & lingerie
– Washington Green Fine Arts Publishers
We work with established businesses, new businesses,  not-for-profits, community organisations and large multi-nationals.
Services include: PR, marketing, media relations, copywriting, brochures, newsletters, ezines, eshots, public relations, publications, events, planning, strategy, project management, online and offline promotions.
A few testimonials about our marketing and PR work
"I have worked with Sue Haswell  for over 3 years. The company has dealt with both our internal and external communications requirements in that time and I have been delighted with the service they have provided. Sue's company is creative and hard-working and they have developed a sound knowledge of our industry and requirements. I would be happy to recommend them to any organisation looking for PR or marketing".  Gerard Burgess,  Central Trains Limited.
"I just wanted to say a big "thank you" for your marketing support and mentoring whilst patiently guiding me through the positive aspects of social media marketing. It's been a steep learning curve, but with your guidance I can now confidently set up blogs, I twitter regularly and my linked in and website profiles look more professional. Your creative expertise when copy writing my promotional material and press releases has also been of great benefit, not to mention all the PR and introduction opportunities you've passed my way.
"I'm noticing that people are recognising the company name and I'm sure this is as a result of my extra web presence. I still have a long way to go, however I feel more confident that my dream of running the South West's leading Image Consultancy is now an achievable goal, and one I couldn't imagine when we first met and went through my PR and Marketing Review."  Jo Smallbones, The Devon Image Consultant
"They have been very creative in their approach to the TimeTin PR. I gain a sense that they are truly passionate about my business. I appreciate that when they agree to do something, it's done – I get a lot of false promises in the consultancy world that I operate in, but it's good to see that they don't over promise and what they agree to do, they get done thoroughly and well."  Katrina Healey, MD, TimeTin
Our offices are now in Devon, near Exeter and Newton Abbot, and we have PR & Marketing clients across the UK, particularly in the Midlands and Devon.